PC Roads of FBH has launched its new website
The first website of the PC Roads of the Federation of BH was launched in January 2007. With few modifications over the years, the site has been successfully operated and served as a source of information for the overall public and communication channel between the employees.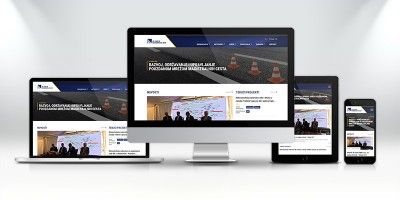 In the last year, the website of the PC Roads of FBH had average monthly reach of 20,000 unique clicks, which was an additional motivation for modernizing this type of communication with our stakeholders.
By adopting new technologies, in the creation of our new website we have been striving to present our activities in the most accessible way and to facilitate the communication with the users of the main road infrastructure through an interactive interface.
Visitors are able to get acquainted with the legal framework in which the PC Roads of FBH operates and get information on the procedures for using the services from our jurisdiction.
We believe that this new website will enable a more transparent business activity which is a goal and an obligation of the socially responsible public company as we are.
ONGOING PROJECTS
Section Ongoing projects  gives an overview of the projects contained in the actual Plan of the PC Roads FBH and provides an interactive map. Projects can be searched by their names or by main road or cantonal reference of the territory.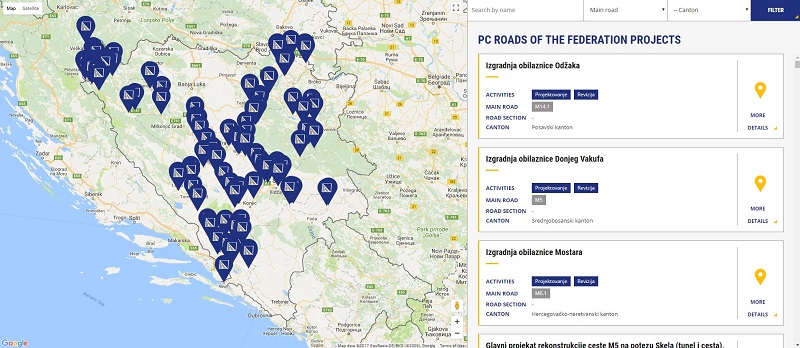 MODERNIZATION OF MAIN ROADS
PC Roads of the FBH, a limited liability company fully owned by the FBH Government, under the comprehensive Programme of Modernization of Main Roads in FBH launched an initiative for the Federation Roads Sector Modernization Project.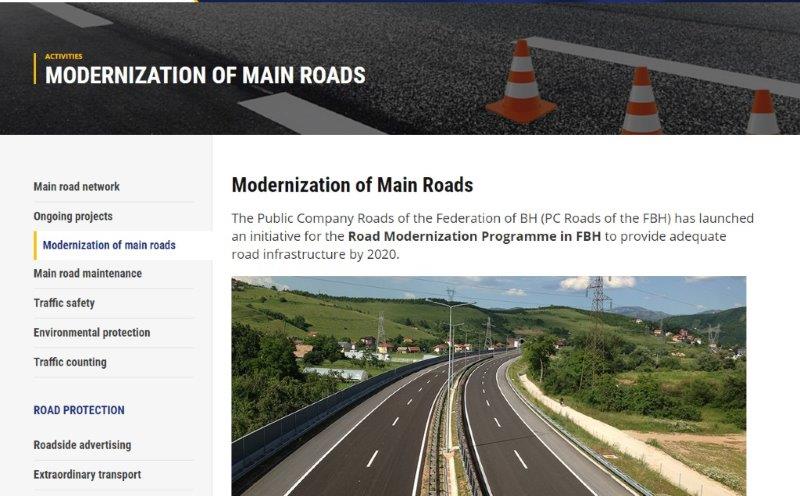 ACTIVITY
New Activity Section enables visitors to easily access information about our activities as well as the procedures setting up matters being under the jurisdiction of the PC Roads of FBH.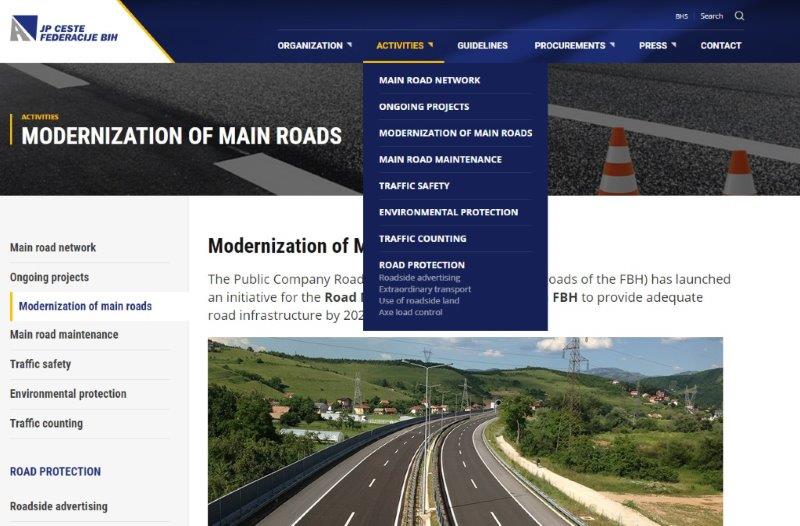 PUBLIC PROCUREMENTS
Pursuant to the Public Procurement Act of BH, Public Procurement section contains digitalized documentation regarding public procurement procedures conducted by the PC Roads of the FBH, i.e. procurement plans, bidding documents, contract award decisions and contract implementation forms. Documentation can be searched by the public procurement reference and by the type of document.