Beginning of Reconstruction of the tunnel Crnaja
FBH Roads hereby informs the traffic users that the works on the reconstruction of the Crnaja tunnel will begin on Monday, 8 February 2021 along with the new traffic regime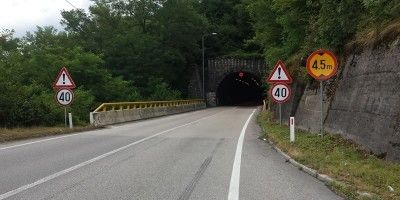 Traffic through the Crnaja tunnel will take place alternately, over a one traffic lane, and will be regulated by traffic lights. According to the traffic simulations, the waiting interval shall be limited to 30 minutes maximum.
In order to speed up the construction, the works will be carried out continuously 24 hours a day, with complete suspensions of traffic from 11 pm to 5 am, with the exception of ambulances and police vehicles.
The works will be suspended from 1 June till 30 September while the traffic will take place over both lanes, without restrictions.
During the works, traffic users can use the following alternatives:
M5 Sarajevo - Kiseljak - Busovača - Kaonik,
M5 Lašva - Kaonik - Vitez - Nević Polje,
M16.4 Nević Polje - Novi Travnik - Bugojno,
M16.2 Bugojno - Prozor - Jablanica,
M16. Bugojno - Tomislavgrad,
M6.1 Tomislavgrad - Mostar,
M18 and M18.1 Sarajevo - Foca,
M20 Foca - Trebinje.
For the sake of timely update of information to the users, BIHAMK cameras have been installed on both sides of the Crnaja tunnel in order to provide real time traffic condition on this section.
Any request for information, complaint or suggestion regarding the works on the reconstruction of the Crnaja tunnel can be addressed directly to FBH Roads, via email crnaja.info@jpcfbih.ba, fax + 387 33 250 400 or by mail to the address JP Ceste FBiH d.o.o. Sarajevo, Terezija 54, 71000 Sarajevo.
All relevant details related to the project of reconstruction of the Crnaja tunnel shall be disclosed regularly by FBH Roads through its website (www.jpcfbih.ba), via BIHAMK and HAK, as well as the media.